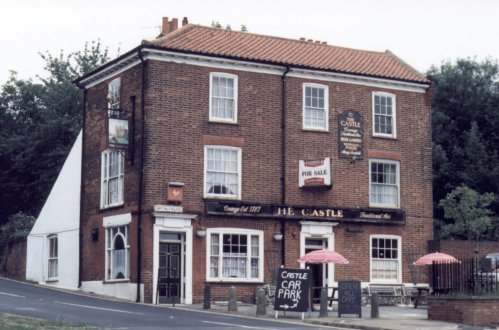 2003
Location given as Thorpe Hamlet in 1868, 1869 and 1898.
Location as Plumstead Road in 1877.
It was reported 15th February 1845 that a scuffle had occurred at the Castle Tavern, and the licensee,
Henry Cates
, who was also mess master at the Barracks, had intervened.

An application made Saturday 22nd August 1891, by B. G. Anderson, for a music licence was refused by the magistrates.

Given as the CASTLE TAVERN, near the Barracks, in 1845
Landlord Joe Atkins purchased a Mini-bus for £700 as reported June 1988. The `Boozer Cruiser' was intended to ferry the quiz, football, darts and pool teams to away venues without the fear of falling foul of the drink driving laws. The bus was available for special functions and to be used to get regular customers home at Christmas and the New Year.
Described August 1988 as having a small attractive garden lit by fairy lights. A friendly pub selling Courage beers.

In May 1989 it was reported that children were welcome to be taken into the lounge bar but never the public bar.
In August 1994 it was reported that the Castle barn had been converted and was complete with stage and lighting facilities. It could hold up to 70 persons.
`Sack The Machine ' were to play on Friday August 26th and the following day Vic Salter, with `Double Take ' on Sunday evening. On Bank Holiday Monday, 29th August there was to be a party night with entertainment by Bobby Payne.
The barn, once used as a function room, was damaged by fire May 1997. At the time it contained a Morris Minor and several `valuable games machines '.
Plans to erect two holiday apartments on site of the barn refused August 1997