Licensees :
-
?
1741
-
EDMUND LOCKETT
labourer
1760
JOHN DILLY
1802
Mrs DILLY
1810
ROBERT JARVIS
1822
JOHN DUFFIELD
1830 - 1839
JOSEPH BARNES
1842 - 1845
Committed to prison 20th November 1844 for being in possession of stolen goods - See opposite.
PETER DIGBY
age 51 in 1851 - cordwainer
1846 - 1856
ROBERT FELSTEAD
Age 56 in 1861
1859 - 1865
FREDERICK HANNANT
by 1867
GEORGE WILSON
10.10.1874
HENRY HANNENT
24.12.1875
GEORGE BANGAY
02.04.1878
ARTHUR BANGAY
09.05.1893
FRANK CLEMENT WALKER
13.01.1920
ARTHUR EDWARD AMOND
20.11.1934
NORMAN MacDONALD CRAIG
14.07.1942
ALBERT THOMAS SHEPHERD
09.11.1948
WILLIAM HENRY BARLOW
09.06.1953
DOUGLAS ELTRINGHAM
31.12.1957
CHARLES SIDNEY ROSE
29.08.1961
....... CARVER
c1966
....... LEWIN
c1968
-
RICHARD BENTON
1992
RICHARD KEITH ASHBOURNE &
DEBORAH GRIMSTON
16.05.1995
RACHEL & LUKE OLIVER
04.2001
.
DAWN CLARKE (manager)
by 11. 2003 - 2006+
-
BERNICE PERKINS
by 12.2009 - 2016+
Thanks to Nichola Rayner of Tager Inns Ltd
for the update 12.2003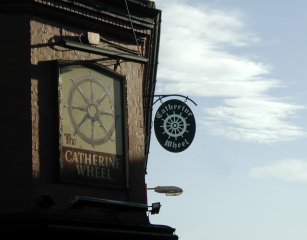 January 2005


Advertised 12th December 1741 To be Let at Christmas.
An ancient and well-accustomed Inn having good conveniences to accommodate horse and man.
Rent 12 shillings per year.

In 1790, 30 members of a club at the Catherine Wheel shared £500 - a win on the lottery.


Original thatched building was rebuilt in early 1800's.

Joseph Barnes was found guilty, 20th November 1844, of having stolen silk and yarn in his possession.
Unable to pay the £20 fine, Barnes was committed to prison for one month. Upon issue of a Distress Warrant the officers went to the Catherine Wheel but there they found the Sheriff's Officer in possession, under a deed of assignment to the brother-in-law of Mr. Barnes.