Licensees :
-
WILLIAM STEWARD
& plasterer
Age 46 in 1861
* 1861 - 1864
GEORGE ROLL
1865
WALTER HART
1868
CHARLES CARR
& basket maker
by 1869
WILLIAM SAUNDERS
04.10.1875
FREDERICK UNDERWOOD
07.05.1883
JAMES HUBBARD GREENACRE
18.11.1885
GEORGE BLOMFIELD WATSON
23.01.1899
FRANCIS RAYNER
20.03.1899
GEORGE JOHN COOPER
04.11.1907
Convicted 08.03.1909 of allowing consumption out of hours.
Fine £2 plus 4/- costs or 21 days detention.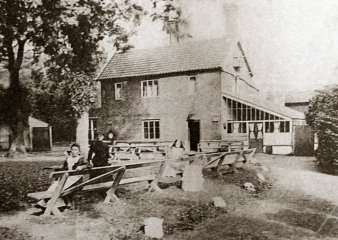 Location also known as Greenacre.
William Steward, plasterer and beer seller appeared before the Court on Saturday 18th May 1861, for his First Examination as being an Insolvent Debtor, owing a total of £83 16s.
William Steward was fined 50s and costs, Monday 13th July 1863 for an assault on George Brazier, an officer for the Great Eastern Railway Company (described as a boy). It seems a fancy goose, owned by Mr. Steward had been killed on the railway line. Mr Brazier had retrieved it as was his job. Seeing the goose being taken away, Steward had knocked Brazier down and kicked him in the eye, thinking his property was being stolen.
The Magistrates thought that obstructing of a railway servant was a serious thing.
Cremorne Pleasure Gardens & Gymnasium Ground in 1868
~
The freehold was offered for sale 28th June 1886,
including a full Wine and Spirit Licence.
The fixtures and fittings were however owned by Morgans Brewery and were not included.
The property was described as containing "a large Entrance Hall, Greenhouse, Parlour, passage to Bar opening upon Gardens, Kitchen and Cellar. Wide Staircase leads to Large Clubroom and 3 Bedrooms".
It was stressed in the sale documents that "The property is well frequented and did not suffer the same rates as Norwich, also that the neighbourhood was steadily being developed and the large extent of the land offered was suitable for valuable building plots."

~

For Sale by Auction Tuesday, 24th July 1900.
Description much the same as the 1886 sale, except it was noted that the lease to Messrs. Morgans, which was £40 a year, was to expire 25th March 1901. The tenants were responsible for all repairs.

~

House referred to Compensation 8th February 1909.
Renewal of licence refused 20th June 1909.

At the meeting of the Norfolk Licensing Committee, held Wednesday 15th December 1909, it was reported that barrelage was 102, including bottled beer, and spirits were 42 gallons per annum. With no licence the property was valued at £119.
Compensation offer of £640 was increased to £650.

Licence expired 07.06.1910.