Licensees :
ROZANNE SCOTT &
ROGER BUTLER
12.08.1997
ROGER BUTLER &
SIMON ATKINSON
16.11.1999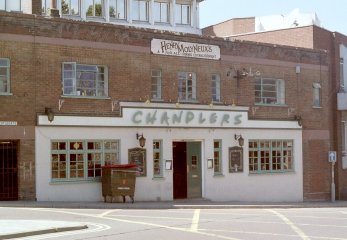 August 1998
Originally the
TUNS
, later the
PIG & WHISTLE
,
then the
WIG & PISTLE
.
Featured an ancient dentists chair.

Voted `Bar of the Year' 1998

1998 - Sign at roof level displaying HENRY MOLYNEUX'S, A Fine Ale & Dining Establishment
But Stephen Molyneux had sold the premises June 1997.

Closed at the end of May 2001 to reopen 16th June 2001 as IMAGINE.