Licensees :
JOHN BROWN
age 50 in 1851
also as John Browne
1839 - 1858
CHARLES LeGRYS
1861
CHARLES SMITHY
by 09.1862
Fine of 20s and 11s costs on Friday 7th November 1862 for having house open for sale of beer, on the previous Sunday, at illegal hours.
Old licence set aside owing to previously being fined for offences against the tenor of licence - Renewal considered Tuesday 25th August 1863.
WILLIAM BROWNE MATTHEWS
04.06.1870
Convicted 09.05.1877 of selling out of hours.
Fine 10/- plus 17/6d costs or 14 days detention
ELIZABETH ANN MATTHEWS
30.12.1879
JAMES MARSHALL
10.10.1893
ALFRED JAMES SHARMAN
31.07.1900
MARY ANN SHARMAN
27.11.1906
RUSSELL CLARKE
06.04.1926
HERBERT RUSSELL CLARKE
01.10.1946
ERNEST BERTIE YAXLEY
01.01.1952
JACK ERNEST MARCH
17.11.1953
Convicted 19.10.1956 of selling out of hours.
Fine £5
Convicted 19.10.1956 of allowing consumption out of hours.
Fine £5
MALCOLM L G TAYLOR
01.1970
PETER JAMES WEBB
06.1980
BERNARD HALL
05.1982
ROGER MORGAN
26.07.1988
DAVID DRIVER
manager
1991
ROBERT McARTHUR
19.09.1995
KATIE SPURGEON
manager
1997
TANIA LUCAS
manager
1998
TANIA FOLEY
manager
15.06.1999

Built by 1837 with the intent of serving those employed at a new harbour to be constructed for shipping supplying the city. However the railways were developing at that time and got the trade. The harbour was never built.

Beerhouse to at least 1862.
Closed January 1997 for major refurbishment.
New owner Alan Cockrill reported to be planning £170,000 refurbishment of the house and a further £200,000 on a new 12 room accommodation lodge.
Reopened October 1997.

Signage stating ` Freehouse & Lodge.'
plus
`12 Hotel rooms with mini bars to be complete by Spring 1998.'
Planning permission sought May 2002 to redevelop site to provide 15 houses, with associated access and parking.

Norwich City Planning officer reported to the planning committee meeting of June 2002 that the house was not classed as historically significant and "it would be difficult for us to resist redevelopment of the site".
The `recent' granting of 11 liquor licences (At the Riverside development) was said to have sounded the death knell for the Clarence Harbour.

Closed March 2004.

Demolition commenced 02.04.2004
Site levelled by 17.04.2004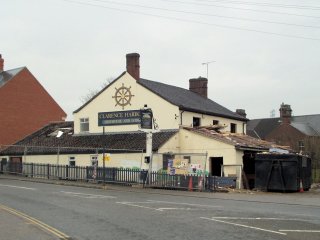 02.04.2004 - under demolition