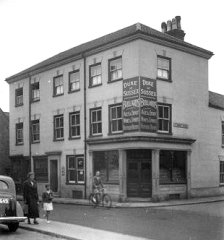 03.08.1938
Image by George Plunkett - shown by permission - Copyright © G.A.F.Plunkett 2002

Also found as the SUSSEX ARMS.

Located on the corner of Botolph Street and St. Georges.

Address also given as St. Augustine's Street in 1845 and 1854.

~
Described as a Public-house and Spirit Shop when offered for sale by auction, Friday, 11th October 1844. Situated at the top of Middle Street, lately occupied by William Dunn, containing spirit shop, porter room, parlour, club room, 3 bed rooms, large cellar, back yard and convenient offices.


Advertised 18th September 1852 to be Sold by Auction.

There was an objection to licence renewal at the 1905 sessions on the grounds that the back door opened into an enclosed passage.
The matter was held over to the adjourned sessions held 9th February 1905 where the matter was amicably settled.
Bullards records show that the house closed before October 1961.

A note dated 11.08.1961 states that trading had temporarily been discontinued by reason of Compulsory acquisition.