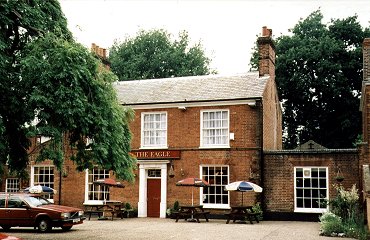 September 2000
Named as the
EAGLE
, Eaton Road in 1830
As at Newmarket Street 1836.
Address as St. Stephens Road, Heigham in 1845.
Present building said to have been a private dwelling to 1873.
Launched as part of `Internet Inns' March 1st 2000,
offering a room and equipment for internet surfing.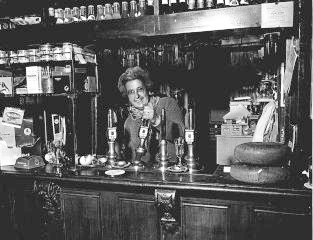 May Wright c1965

Note : 2 pumps for Bullards Mild, 1 for Bullards Bitter.
Two wooden `cheeses' to the right, for use in the skittle alley.
An aviary, formed in May 1993, containing a cockatoo, eagle owls and parakeets was ordered by city magistrates to be silenced, January 1994. Neighbours had complained about the bird noise. The noisy cockatoo was soon found a new home in the country.
By March 1994 the council sub-committee agreed that planning rules had been breached and the aviary, a satellite TV dish, signs, a chiller unit and ducting were to be removed.

Lease offered for sale February 1992.
The residue of a full repairing and insuring lease of 20 years from January 1990.
The rent of £25,000 pa being due for review in 1995 and then five years thereafter.
A tie of 100% on beer and lager to a minimum of 210 barrels a year.