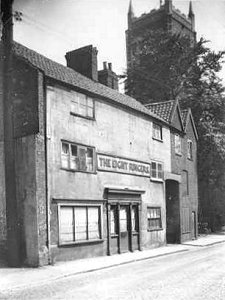 Image by George Plunkett - shown by permission - Copyright © G.A.F.Plunkett 2002
The house was engaged for Freeholders, the Friends of Sir Edward Astley, Bart. and Thomas William Coke, Esq. on Wednesday 14th April 1784, being the Day of Election. (One of 53 such houses in Norwich)
Given as Coslany Street 1836 & 1879.
As at Church Street 1845.
At St. Miles 1856
On 8th April 1878, William Betts remonstrated Arthur Dunn for swearing in the house. He then turned Dunn out and told him not to come in again. As Dunn was ejected he received a black eye by hitting his head on the doorpost. Dunn then attempted re-entry and kicked the door three times, which is when Betts threatened him with a poker.
Dunn received a blow to the back of the head with the poker, for which the Mayor said, on 10th April, a fine must be paid, or fourteen days detention.
Dunn was warned not to go to the Eight Ringers any more and was reminded by the Police Superintendent that he had been five times before the justices.
Licence provisionally refused 12.02.1913 and referred to Compensation.
Closed by Compensation 31.12.1913.

House No. 325 on 1845 Magistrates list