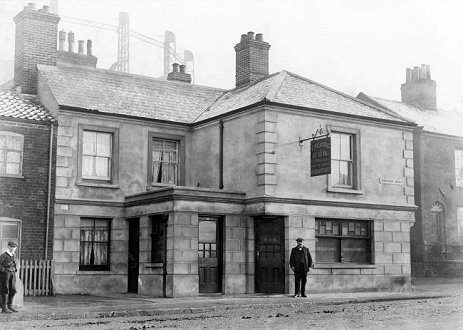 c1900
Image shown with permission of
Norfolk County Council Library and Information Service
Address as Chalk Hill Road 1883.
Badly damaged by enemy action 27/29.04.1942.
S&P confirmed to the Magistrates 17.06.1964 that the house
`will shortly be closing and the licence will be surrendered'.
It closed the next day.
Sales in the final year of trading were 123 barrels of beer.
Closure agreed by the Steward & Patteson board 22nd July 1964.
The house adjoined Lollards Pit.
This is a hollow cut into the side of a hill and the area is known to have been used for the practice of burning at the stake.
Those who have met such a fate here include William White, Thomas Bilney and Cicely Orme.
The Bishop Alnwick declared that any Lollards found would
'hop headless' or `fry a faggot'.
Lollardy (or Wycliffism) originated as a religious culture c1370.
The followers of John Wycliff were to be later accused of heresy and the first orders for burning were issued by Henry IV in 1401.