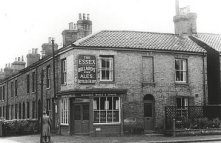 06.11.1951
Also listed as the ESSEX TAVERN, 67 Rupert Street.

Charles Copperwheat applied for a spirit licence Tuesday 27th August 1867. Described as a beer and general shop, close to the SOMERLEYTON TAVERN and (2) others, the application was refused.

Full licence granted Tuesday 25th August 1868.
Damaged by bombing during the nights of 27th - 29th April 1942.
Closed by Bullards 07.08.1967