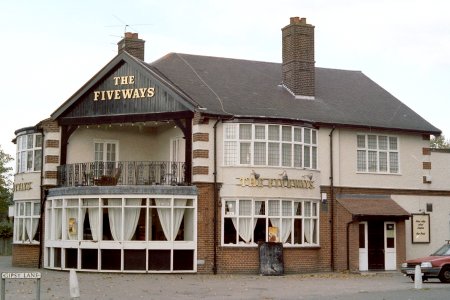 November 1995.
Opened 1928 following transfer of licenses from the
MANCROFT STORES
and the
CURRIERS ARMS
.
A `drink the pub dry' event, held here for the 1969 UEA rag week ended in failure. Although 150 or so students managed to down some 74 gallons of beer, there were still over 30 gallons remaining in the cellar.
However......
The spaghetti eating challenge was won by a team of 4 who consumed 8lb (3.6kg) in 3.5 minutes.
The UEA record for drinking a pint was reduced to 2.9 seconds.
According to a 1974 publication the upper section of the bowed balcony was once enclosed with mesh in order to serve as a canary cage.
August 1996 - House said to have been standing empty for six months prior to new licensee taking over under Sizzler Inns - Name of house said not to be due to the location at the meeting of five roads, but upon the five ways possible of travel...by air, sea, rail, road and on foot. .....
Hummmmm.