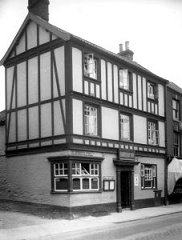 07.07.1936
Image by George Plunkett - shown by permission - Copyright © G.A.F.Plunkett 2002
One of 36 Norwich houses opened for the reception of Voters in the interest of Mr. Windham and Mr. Coke on election day Thursday 13th November 1806.
The name of the Hundred for which the house was appropriated was to be displayed at each house.
Address as Upper Westwick Street in 1836.
As at St. Benedict's Gates 1822 and 1845.
Destroyed by enemy action 29.04.1942.

Tenant went to the BAKERS ARMS.
A report dated 23.11.1966 says that the name
`Recently and finally removed from the Licence Register'.