Licensees :
-
SAMUEL JENKINSON
1760 - 1761
PHILIP TOOLEY
butcher
1762 - 1764
-
WILLIAM MATTHEWS
1782 - 1807
SAMUEL BARKER
1810
HENRY SIMMONS
1830 - 1836
STEPHEN GOODWIN
1839
MARIA GROOM
1842
GEORGE MOORE
1843
November 1843 - Fine of 10s and 10s costs.
See opposite.
Mrs WILLIAMS
1845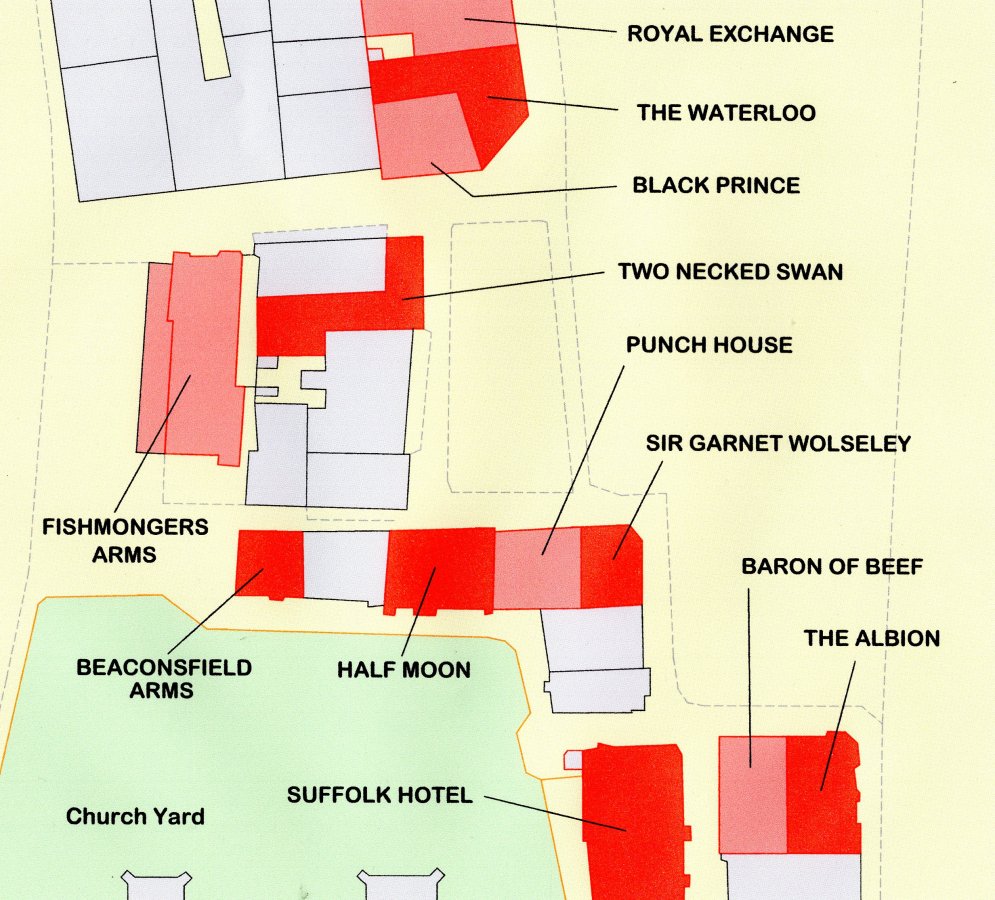 1880's
The
GOLDEN KEY
appears to have been associated to the Liquor Trade from at least 1763, however it is uncertain if it served as a public house or simply a wine and spirits Merchants in the pre 1800 days. It appears to have represented businesses spread at different locations, as can be seen from the following:-
23rd July 1748
Mr Henry Patteson in occupation of the Ironmongers on the corner of Dove Lane - The Key.
24th December 1748
Occupant William Steele offering his Whole stock of linen-drapery Goods to be sold - Location given as Golden Key, Market.
26th January 1765
John Tunnard, from the GOLDEN BALL, White Lion Lane, advised that he had taken the Shop of Messrs. Patteson & Son, Ironmongers at the Golden Key on the corner of Dove Lane. Ironmongery in general would continue to be sold, wholesale and retail, on the most reasonable terms.
*
12th January 1776
The sale of the Stock in Trade of Jacob Edwards to be sold at the Golden Key, Haymarket. The stock included Buckles, Buttons, Table Knives and Forks, Butchers' Knives, Razors, Scissors, Fleams, Pocket Knives....
21st November 1778
Jacob Edwards, occupant of the Golden Key, Corner of Bridewell Alley, St. Andrews, advertised that he was selling London, Birmingham and Sheffield Cutlery. He was giving up trading at Fairs and so his well known Cart, which made an 18ft Stall, was for sale, with or without Horse.
25th May 1782
William Matthews at the Golden Key, Market Place was selling Cheap, his Glassware from the Glass Warehouse. He was declining that part of the trade.
*
19th June 1784
To Let - A Dwelling House, Warehouse and Stable in occupation of William Booth, Linen Warehouseman in Market Place. Enquire of William Matthews, Wine, Rum and Brandy Merchant, near Pudding Lane. N.B. Glass China, Earthenware and Tobacco at the lowest Terms.
24th September 1785
Ransomes & Co advised that the Ironmongery, Stove Grate and Cutlery Warehouse, at the Golden Key, corner of Dove Lane, Market Place, was being taken on by Messrs. Bullen & Co.
*
25th March 1786
Bullen & Martin's at the Golden Key, Market Place, were selling Plough Breasts, Ground irons and Cart boxes at Foundry prices.
*
24th October 1789
James Goodwin at the Golden Key, Pudding Lane, Dealer in Wines & Spirits advised that he had just imported a large stock of Wines, Foreign Brandies, Jamaican Rum and Holland Geneva.
19th May 1792
Ann Barker advised that she had disposed of her stock of Wines and Liquors and thanked for the favours that had been experienced by her late husband, James Barker. The stock had been taken by John Woodrow, Importer and Dealer in Wines Etc. whose office was on Gentleman's Walk in the Market Place.
Also - To Let and entered at Michaelmas - A Dwelling House, Warehouse and Stable in occupation of William Booth, wholesale linen draper, in the Half Moon Yard, Market Place.
?
4th September 1802
To Be Let - A House in Bethel Street, then in the occupation of the Rev. William Wilkieson.
Enquire of William Matthews, importer of Wine and Foreign Spirits, Market Place.
26th July 1806
At a Special Assembly of the Corporation, held on Monday Last, Mr. Peter Merry, plumber, was discharged from serving the office of Sheriff, on paying the usual fine of £80. The letter was then sent to Mr. William Matthews, liquor merchant, with whom it now remains. (??)
19th May 1819
For Sale by Auction Tuesday 1st June 1819 : Ironmongers Shop, Ware-Room and Dwelling House located at the Market Place on the corner of Dove Lane. In occupation of Mr. Joshua Bullen.
*
1st May 1813
Advertised as the Golden Key to be Sold by Auction Tuesday, 4th May 1813. For `near on 50 years used in the liquor trade'. Location given as Adjoining the Half Moon, Upper Market. See below.
6th January 1827
Advertised as the Ironmongers of Charles Barnard, location Golden Key, Upper Walk, Market Place.
9th January 1841
Golden Key Tavern, mentioned in the case of a stolen silver watch.
6th February 1841
It was reported that a Gentleman, to be found at the Golden Key Tavern, Market Place, had offered a Wager of 50s to anyone who could run 100 yards, shoot one dozen pigeons and ride a steeplechase of one mile out and home, over any country within 40 miles of Norwich
9th October 1841
Charles Barnard at the Golden Key, Upper Walk, Market Place, announced that Mr. Matthew Bowles Joy had left the company of Barnard & Joy on 3rd July 1841, but business would carry on as usual at its Branches
2nd April 1842
Charles Barnard, Ironmonger at the Golden Key, Market Place.
1st July 1843
Edmond Carr late of the Golden Key, St Peter Mancroft advised that he had Petitioned the Court of Bankruptcy and was currently living at Julian Place, having been previously at the Golden Key for 9 months.
29th July 1843
The Golden Key, Market Place, mentioned in the case of the stolen Glaziers Diamond......
25th November 1843
Golden Key - It was reported that George Moore had been fined 10s and 10s costs for keeping a disorderly house and of harbouring improper characters.
(Same as the GOLDEN PIPE at 6 Haymarket, given 1801 ?)

Samuel Barker, from the DOVE TAVERN, Market Place, advised 1st February 1810 that he had taken over the premises, for many years occupied by William Matthews.... Old Established Brandy, Rum & Wine Vaults. (Opposite Mr. Black's Confectioner).
See OLD DOVE

For Sale by Auction Tuesday, 4th August 1813.
Location given as adjoining the HALF MOON on the upper side of the Market. Comprising a shop, parlour, small room, tea room, three bed-rooms, large attic, capital cellar, wine vaults and other conveniences. Then and for near fifty years used in the liquor trade. (So from about 1763?)
Address as Old Haymarket according to Pigot in 1830, by White in 1836 and again by Pigot in 1839, but Market Place, St. Peter Mancroft according to Robson in 1839 and by Blyth in 1842.
Does not appear on 1845 Magistrates list