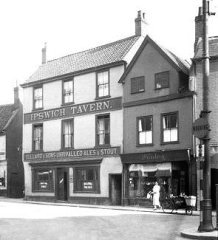 16.06.1936
Image by George Plunkett - shown by permission - Copyright © G.A.F.Plunkett 2002
The
CITY OF NORWICH
to at least 1864.
Listed as the IPSWICH ARMS July 1866

An application was made Saturday 22nd August 1891, by Mary Ann Fuller, for a music and singing licence for the bar. Since the sanitary arrangements were not complete, the application was refused.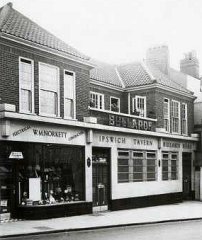 26.06.1938
Image by George Plunkett - shown by permission - Copyright © G.A.F.Plunkett 2002

On Thursday 9th February 1905 the Chief Constable objected to licence renewal owing to the back doors opening into enclosed passages. However he withdrew the objection.

Damaged by enemy action 27/29.04.1942
Managers Mr & Mrs A. Osbourne attended a garden party at Buckingham Palace on 25th June 1969. It was for presentation of the colours to the 2nd Battalion Grenadier Guards, in which their son served as a corporal.
Closed by Watney Mann (East Anglia) 03.01.1974

Demolished.