Licensees :
-
RICHARD COOPER
1810
Mrs ELIZABETH COOPER, formerly of the Jolly Brewers, died July 1820, age 69
P. NAIL
1822
PHILIP NEALE
1830
JOHN HOWMAN
1836
JOSEPH BARNES
(Two Brewers)
1842
WILLIAM CHAPMAN
1845
THOMAS CUBITT
Sarah (24) Thomas (27) in 1851
25.12.1849
SARAH CUBITT
27.11.1878
SAMUEL WARMINGER
25.06.1880
SAMUEL THORN
10.02.1885
SOPHIA THORN
15.06.1886
JAMES YALLOP
14.05.1895
FREDERICK WILLIAM HAZELL
24.03.1896
SAMUEL GRAY
17.11.1896
FREDERICK ALFRED WILLIAM COMAN
21.03.1899
ALFRED BOND
19.03.1901
DAVID AMBROSE
07.02.1906
EMMA AMBROSE
11.02.1915
DAVID AMBROSE
17.06.1919
GEORGE ALBERT PARKE
08.10.1929
WILLIAM HENRY HURRELL
21.06.1932
HERBERT RALPH COE
08.05.1945
........ BARNES
c1965
Thomas Cubitt married Sarah Bell at the Norwich Registry Office in 1846. They were running the Jolly Brewers from December 1849.
By 1861 Sarah Johnson was employed as a housekeeper, by whom Thomas Cubitt fathered 9 children. Thomas Cubitt and Sarah Johnson lived as a couple for 20 years but never married.
The fate of Sarah (nee Bell) Cubitt is unknown.
It is unclear if the Sarah Cubitt given 1878 is really Sarah Bell or Sarah Johnson.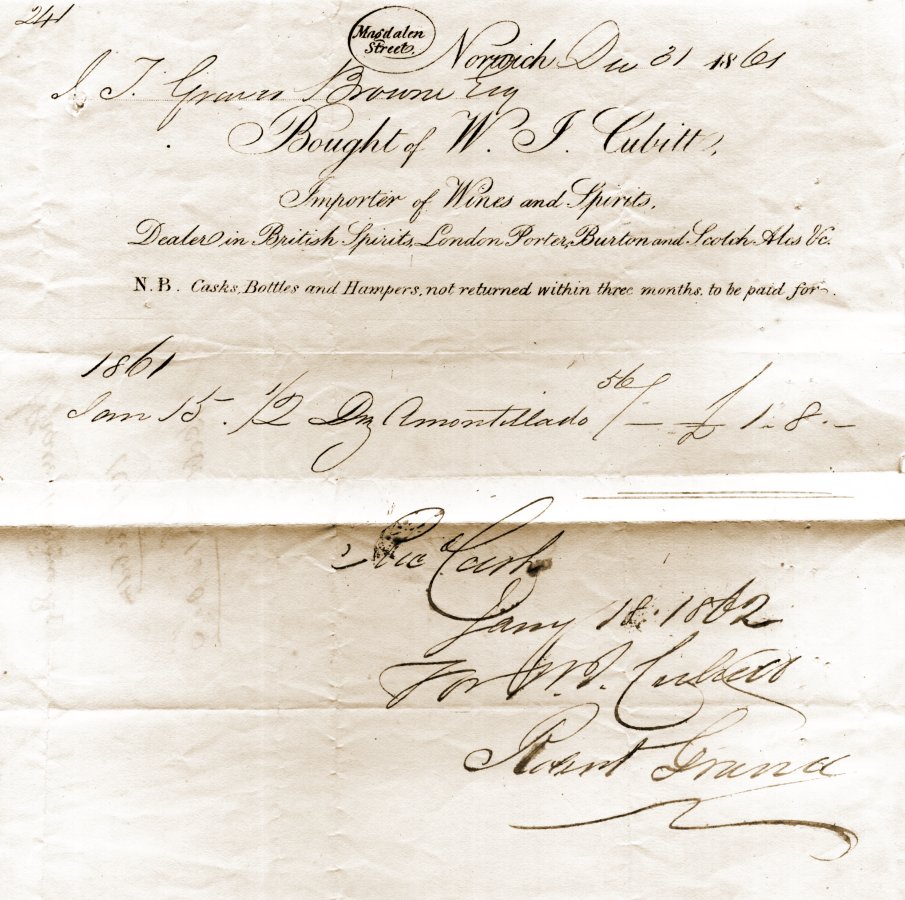 1861 invoice for 6 bottles of sherry.


Norwich police raided the house on Saturday 9th May 1903 investigating allegations of gambling taking place in the house. At least 10 officers, including the Chief Constable, arrived at the house in cabs, the drivers of which having white ribbons tied to their whips, as if conveying a wedding party. Other officers arrived in a fire engine tender.
Alfred Bond was charged of keeping the house for the purpose of betting, relating to certain horse racing on May 2nd, 5th, 6th and 9th May.
Eighteen persons in the house were arrested, as well as the landlord. All those arrested were allowed out on bail of £5 each, except Mr. Bond who had to find £20.
In court on Thursday 14th May 1903, bookmaker William Pearson of Cowgate was summoned for using the bar and tap room for the purposes of betting. Mr. Bond was charged under the Betting Act of 1853.
Police constable Cole had been instructed by the Chief Constable to enter the house (under cover) to obtain information. This he had done on 6th May and had enjoyed free food and drink, and had made three bets. (He said they all lost)
During the raid on 9th May, five betting slips and money were found in the bar along with sporting papers.
The eighteen customers were discharged with a warning but both Bond and Pearson were to pay a fine of £20 and 6s 6d costs. Pearson being given a fortnight to pay since he claimed he was penniless.
A singing licence was granted Tuesday 8th May 1945.