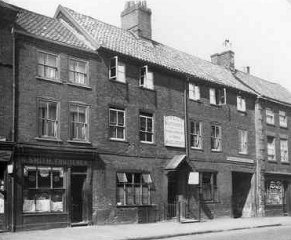 23.08.1936
Image by George Plunkett - shown by permission - Copyright © G.A.F.Plunkett 2002
On Saturday 20th March 1852 it was reported that 19 year old William Brown had been charged with having killed and slain John Heartly.
John Blyth deposed, that he kept the
JOLLY BUTCHERS
, Ber-street. On Christmas-day last, Heartly and Browne were in his house. They quarrelled and fought. Witness tried to part them and held Heartly in his arms but he broke away and two or three times hit the prisoner, who was being held by Mrs. Blyth. The prisoner then broke away and both of them went into the yard and there fought with their fists. Witness parted them again and took Heartly into the house and shut the door but he broke out and into the yard and fought with Browne for half-an-hour. After that they shook hands and washed themselves. Heartly was of a quarrelsome disposition and had fought before. After the last fight he was taken to the hospital.
Mr Nichols, surgeon to the hospital, said that he had seen the deceased on December 26
th
and he was then suffering from severe injuries, caused by blows received. He continued suffering until January 6
th
when he died.
The Judge, in summing up, remarked on the various degrees in the offence of manslaughter, and said in this case the prisoner was greatly to be pitied, but still the law would allow no fighting, and no breach of the peace.
The jury returned a verdict of guilty with a recommendation to mercy. Sentenced to imprisonment with hard labour for one week.
~
Mr. John Blyth applied for licence renewal at the Annual Licensing Sessions, 1852.
Having no knowledge of complaints, Mr. Blyth expected the licence to be renewed as a matter of course and did not attend the hearing. Unfortunately for him, Superintendent Dunne reported that it was `a low lodging house and receptacle for thieves, prostitutes and characters of the worst description'.
At the Adjourned Sessions, Monday 11th October 1852, Police Sergeant Steward was called and confirmed the nature of the parties that used the house but added that Mr. Blyth had always given every facility to the police and conducted the house as well as it could be.
One of the four magistrates said it would be hard to deprive a man of his bread under such circumstances and thieves had to go somewhere. No tenant should be responsible for such types if he did not assist or protect them.
The licence was granted with Mr. Blyth being cautioned to keep his house orderly and as respectable as possible.
Part of the estate of Westons, St. Georges Brewery,
sold to Youngs & Co at auction Thursday 18th August 1864.
The rear of the premises included accommodation, this was known as Days Lodging House by 1920's. Mr (William) Day was previously head cellarman for Morgans Brewery. The youngest of his 9 children was Sidney James Day VC (died 1959), he had won the Victoria Cross during WWII.
Converted into offices 1990, following closure August 1989.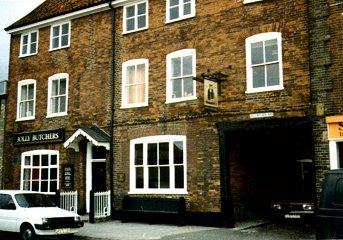 1986