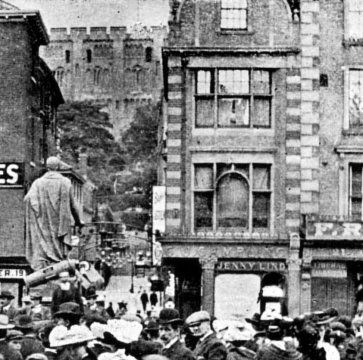 1906.
Jenny Lind (1820 - 1887) was a Swedish soprano singer
who toured Europe and the United States of America.
She became a British citizen by 1859 and lived in London.
Jenny Lind was due to arrive at the Bishop's Palace on Saturday 19th September 1847. It was reported that `the fair songstress is in excellent health'.
Advertised To Let February 1861.
Consisting of a Licensed Wine, Spirit, Ale, Porter Shop and Chop Room on the ground floor. (Entrance being on Davey Place.) On the first floor a 21 feet long Dining Gallery with an excellent Ladies or Family Room. On the third floor a very commodious Divan or Coffee Room. Also six other smaller but convenient rooms and a good Cellar. Enquire of Mr. Norgate at the Market Place or St. Stephens.
Address as 20 The Walk, Market Place in 1912.
Stood on the corner of Gentlemans Walk and Davey Place.

Noted as "A house of call for the local ladies".
Held a 6 day licence from 1872.
Licence provisionally refused 07.02.1922 and referred to Compensation.
Closed under Compensation 08.01.1924