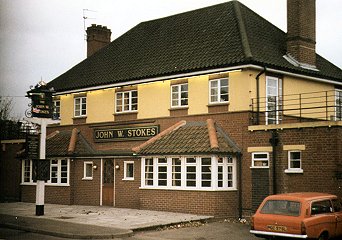 1986
The
HORSE BARRACKS
to 1979.
`Inside of pub gutted and rebuilt with a Victorian flavour' to re-open as the
JOHN W. STOKES
Thursday 8th November 1979.
Refurbished 1987 at a cost of £100,000 and leased by Broadland Taverns from Norwich Brewery. The business was split into two parts with the bar upstairs and a restaurant and `
nitespot
', complete with `impressive sound system' downstairs.
JOHN W. STOKES to closure October 1989.
The bar top, a long piece of mahogany (?) was sold to the REINDEER for £25.
Used in its final days as a stationers office.
Demolished 2001 and plans to build housing on site announced early 2002. (Such plans opposed by English Heritage and the Broads Authority).
Plans approved by City Planners February 2002.