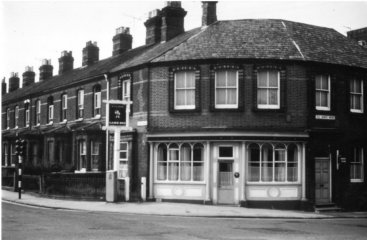 Original house stood opposite Victoria Gardens midway between St. Stephens Road and Brazen Doors Road and is listed to 1871.
It was subsequently demolished.
By 1871 new premises were erected on the site of the former
BRAZEN DOORS TAVERN.

Address then 68 Queens Road.
Identified as the
LAME DOG AND STYLE
, 1816.
On Saturday 11th July 1829, Mr. Edwards of the Lame Dog accidentally broke his leg whilst removing some timber from the saw-pit in Mr. Mear's yard.
On the night of Saturday 7th October 1854, there were several complaints made to Police-constable Haywood concerning conduct at the house. Entering at about 11:45pm, the constable found 40 boys and girls, aged from 14 to 20 fighting and causing a disturbance in one of the lower rooms. One of the girls was lying in a hysteric fit on the floor. As he entered the room, the landlady turned off the gas and he cleared the house, the parties dispersed in a disorderly and noisy manner.
Licensee Edwards said he was ill in bed at the time and in the 38 years he had been at the house, there had been no complaint. On 12th October the fines totalling 16s 6d were paid immediately.
At the Annual Licensing Sessions held before fifteen magistrates on Tuesday 28th August 1855 it was heard that earlier in the year Robert Edwards had been fined for keeping a disorderly house. On one occasion 50 young girls and boys had been found on the premises and three parties fighting.
Being a first offence and the house otherwise generally being well conducted, the licence was renewed.
At the licensing session held Monday 23rd August 1858 it was heard that John Sloper had been found in the past, to have harboured bad characters and refused to admit the police. Since that event the house had been conducted properly and so the licence was renewed.
Morgans sales for 1960 were :-
220 barrels of beer
33 spirits.
Closed 1976.


See page 36 of `Norwich in Old Postcards - Vol 1 ' first published 1988 and page 26 of Vol 4, published 1992