Licensees :
-
WILLIAM DAVIDSON
(Beer retail, St James' Road 1846)
1842 - *1846
MATTHEW WEBSTER
age 53 in 1851
*1850 - *1851
WILLIAM BULLARD
by 1858 to 1859
ROBERT GREAVES
& labourer
(as Robert Graves 1861)
by 1861
Old licence set aside owing to previously being fined for offences against the tenor of licence - Renewal considered Tuesday 25th August 1863.
HENRY BULLARD
02.03.1869
JAMES SUTTON
19.05.1874
TIMOTHY BENNETT
26.02.1875
Convicted 25.10.1877 of selling out of hours.
Fine 2/6d plus 17/6d costs.
THOMAS HOBART
27.04.1882
JOHN TILLETT junior
10.10.1885
FREDERICK SILCOCK
11.10.1886
WILLIAM JOHN HARPER
29.03.1887
SAMUEL MAYNARD
28.06.1887
RICHARD WILSON
10.10.1888
PATRICK WILBY
(Also found as Welby)
08.01.1889
SAMUEL PARKER
23.03.1897
JAMES WATSON
10.10.1899
JOHN JAMES KING
19.01.1904
ROSA KING
18.07.1916
JOHN JAMES KING
13.05.1919
ALBERT JAMES DAVIS
10.01.1922
RALPH HERBERT WALKER
05.04.1932
Convicted 12.01.1945 of allowing consumption out of hours.
Fine 10/-
FRANK GOLDSON
06.05.1947
ALBERT ROBERT MOORE
05.04.1951
STANLEY ALFRED HAYDON
13.07.1954
ERIC HORACE SANDERSON
26.08.1956
GEORGE HERBERT DOWSON
07.05.1957
BERTRAM CHARLES HIPPERSON
05.01.1965
ROSABEL MAUD HIPPERSON
23.11.1965
ALFRED JACK SOUTHGATE
19.07.1966
EDWARD KENNETH READ
18.07.1967
HARRY GEORGE HOPEWELL
08.06.1971
ERIC STANLEY JERMY
20.07.1976
JUNE & TERANCE ROYALL
09.01.1979
TERENCE DOWSON & ELIZABETH LONG
01.06.1993
DAVID DOWSON & ELIZABETH LONG
26.04.1994
DAVID DOWSON & JANICE ANDREWS
14.02.1995
JANICE ANDREWS & EDWARD HUXELL
31.10.1995
PATRICK JOHN MANN
13.02.1996
PATRICK MANN & ANDREW LAWLER
12.03.1996
PATRICK MANN & KAREN STEWARD
11.06.1996
KAREN STEWARD & BRUCE MACE
14.01.1997
KAREN STEWARD, BRUCE MACE
& DEBORAH BAILEY
09.02.1999
MALCOLM McCANN
02.2004
Tommy HOLBROOKE
c2007
NEIL GREY
02 to 09.2009
Closed
SUE DICKERSON
Feb 2010
SARAH LADI
July 2011
Closed June 2013 to November 2014
BOB UTTING &
HANNAH COLBY
2013 to 2016
BOB UTTING &
MICHELLE ELDEN
2017 - 10.2019
JUSTIN McKEE &
EMMA BYRNE
15.11.2019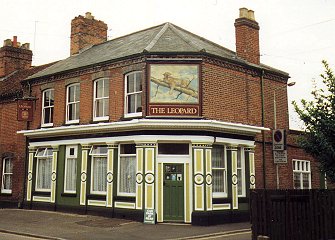 July 1996

Also referenced as at St. Paul. (Adjoins the parish of St. James)

On Wednesday 10th June 1857, beerhouse keeper William Bullard, along with carter John Wright, was charged by a gamekeeper of having destroyed game on lands belonging to Sir W. Beauchamp, Bart. Bullard was fined £1 and £1 2s costs whilst Wright only had to pay 12s 6d costs. (Mr. Bullard was at the WINDSOR CASTLE to at least 1856, it is unclear when he left, but this house seems a likely beerhouse at that time.)
Licensee William Bullard was accused at Crown Court, Friday 29th July 1859, of receiving a gold watch, knowing it to be stolen. The watch had been taken from Mr. Henry Hindes by John Crotch (20), shoemaker and Philip Chapman (30) also a shoemaker. The watch was sold to Bullard for 30/- whereas it had cost £9.
The three were found guilty, but the jury asked for lenience towards Bullard owing to his previous good character. The Judge thought that Bullard was the worst offender since it was people like him who supported those wishing to dispose of stolen property.
Crotch and Chapman were each sentenced to four years penal servitude. Bearing in mind the wishes of the jury, and considering the seriousness of his crime, Bullard received `only' five years penal servitude.
Closed June 2013 and sold by Bateman's brewery.
Reopened November 2014 following refurbishment.

Awarded CAMRA Norwich & Norfolk Pub of the Year April 2019.

House no. 458 on 1845 Magistrates list