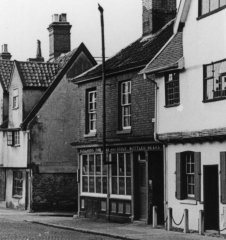 1950
John Mortimer successfully applied for a new licence 1st September 1857.
One of 13 Fully Licensed Public House offered by the Rock Brewery, for Sale by Auction Tuesday 10th August 1897.
"An Old-fashioned House doing a good and increasing trade."
The suicide of Edward Cubitt was reported in the Eastern Daily Press 03.01.1931. He was 48 years old and had gassed himself during the evening of 31st December 1930. His wife Leah said that they had taken over the house some 10 months previously and after 6 months Edward had become worried about the business. He had previously worked for the Norfolk Dairy Farmers Association for 20 years.
House closed 30.04.1963 and licence not renewed 1964.