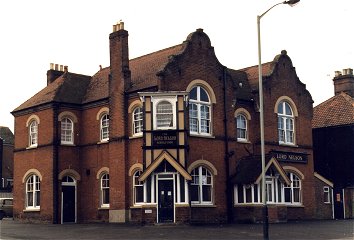 February 1988 - Image by Barry Wilkinson.
This area of Dereham Road was also known as the Stone Hills.
In 1872 J. Greenacre is given as the licensee of the
STONE HILLS
.
Steward & Co are given as the suppliers of the house in 1845.
The address is then given as St. Benedicts Road.
A Bullards report dated July 1866 gives licensee Thomas Watts as being at the house from 29.09.1846, followed by Sarah Watts (undated) and then F. W. Smith from 25.12.1866.
No mention is made of Daniel Dunnell.
Licence removed to a new site 22.08.1899.
The Norfolk Chronicle of 26.08.1899 reported that Mr. E. Reeve had applied upon the behalf of Philip Branch for provisional removal from premises on Dereham Road to a new house to be erected on the corner of Dereham Road and Bond Street. The new house `would be at greater service to the public than the present premises.'
Damaged by enemy action 27/29.04.1942