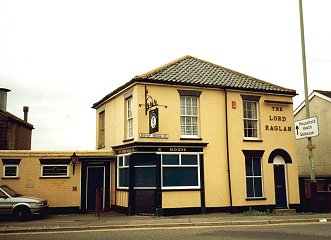 July 1996
New licence awarded to James Boyce 28th August 1855.
Location given as Thorpe Hamlet.
On Wednesday 30th March 1859 it was heard that Police-constable Peck had, on Monday 28th March, discovered a soldier, a woman and another man lying on a bench, with four other men in another room. It was 1:15 am.
Cain Mann said that his wife's brother was visiting from London and had asked for a bit of supper and the persons in the house formed a private party. The soldier had been in the house earlier, gone home to his barracks, but returned to the house to collect his gloves and a handkerchief that he had inadvertently left behind.
With the information from Mann that he could bring witnesses to support the claim, the magistrates remanded the charge to the following day.
On Thursday 31st March 1859, Cain Mann was fined 1s and 11s 6d costs for having his house open before 6:00 am.
Severely damaged by enemy action 27/29.04.1942.
Described July 1988 as a good Whitbread pub with small enclosed garden boasting super views of the river and city beyond.
Offered For Sale July 1992 - £69,000.