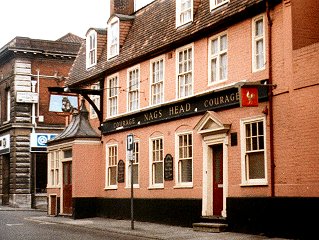 1990
Originally sited at 33 Crown Road with address also as Castle Meadow.
Robert Baxter applied for a (full) licence Tuesday 26th August 1867 - Refused.
On Tuesday 25th August 1868 it was heard that there had been no complaint against Mr. Baxter. The magistrates refused a full licence.
Location then given as almost adjoining the
COCK
.
Recorded 24th August 1869 as previously the
IMPERIAL ARMS
, full licence again refused.
Mr. Baxter had been at the house since 1866 and described the property as with two sitting rooms, each able to hold 50 to 60 persons, beside a large bar, and there was also a 3-stall stable, and requisite accommodation for customers on the premises. He was often asked on Saturdays for spirits from farmers and dealers.
Mr. Baxter applied again Tuesday 23rd August 1870.
It was said that he had kept the place as a beerhouse for four years without any complaint. A memorial had been signed by farmers and dealers who used the house on Saturdays, urging the request. The bench refused the application.
Part of Lot No. 26 (of 27) in a sale of properties held Tuesday 14th November 1871, following the bankruptcy of Messrs. Harvey & Hudson. Then in occupation of Mr. Baxter, undertenant of Messrs. Bullard and Sons, as yearly tenants - £30 per annum rent.
Licence from the
TWO BREWERS
, Maddermarket removed to this house following Magistrates meeting of 10th August 1873.
However a full licence granting the sale of wine and spirits, as well as beer, was not granted until Wednesday 21st August 1877.
At the 1877 Licensing Meeting it was said that Robert Cooper was a sober and industrious man who had been in the trade for 30 years. In 1855 he had run this very house
<When it was the IMPERIAL ARMS>
, which he had carried on,
with a full licence
, for 3
½ years. It was also said that the Nags Head was under the same roof as the COCK.
Address as 33 Castle Meadow 1888 & 1896.
Held an early morning licence (as renewal granted August 1897) for the benefit of the employees at the nearby Post Office.
On 15th November 1898, Mrs. Lyall was granted licence removal from the Cattle Market site to a property, newly purchased by Messrs. Youngs & Crawshay, which comprised the houses Nos. 27 and 29 on the corner of Greyfriars' Street and Upper King Street.
Mrs. Lyall said her house was used by dealers, drovers, &c. and was opened at 4:00 a.m. for their convenience.
The old King's Head had been purchased and was to be pulled down for an extension to the Post Office.
.
On 13th December 1898, Mrs. Lyall applied for and early opening licence for her new house. For some 14 years past she had a licence to open at 4:00 a.m. for the convenience of the Post Office and Compositors.
The Bench refused the application.