NORFOLK PUBLIC HOUSES
St STEPHENS
Rampant Horse Street
CLOSED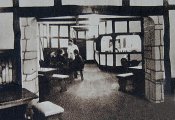 ` This is the time for everyone to stand together, and hold firm!'
Winston Churchill.


NAFFI = Navy, Army and Air Force Institute.

Not strictly a public house but described as a
`War time Service Mans relaxation centre, including a Tavern, Lounge, and Theatre Ball Room'.

The former Buntings store, severely damaged by enemy action (1942)
was converted to a club for service personnel.

Later to become Marks & Spencer's store.