Licensees :
-
JAMES CURTIS
1822 - 1836
JAMES THOMPSON (Tompson ?)
1839
JOHN DAYNES
1842 - 1850
MARK COE
by 1854
EDWARD COE
02.04.1872
ELIZA JANE COE
26.09.1877
Convicted 24.03.1917 of allowing consumption out of hours.
Fine 20/- or 13 days detention.
STANLEY HARRY ARCHER
11.10.1921
RICHARD WILSON
24.08.1926
Convicted 08.02.1928 of permitting gaming.
Fine 10/- or 7 days detention.
ERNEST MANN
15.07.1941
Closed due to war damage.
1942
WILFRED GEORGE de JONGE
12.02.1946
CECIL TRERISE
01.10.1946
ARTHUR JOHN MOORE
13.05.1952
DAVID P. GILROY
by 1967
STUART CLARKE
1971
DOURO POTTER
1973
On Monday 24th September 1827, an inquest was held here into the death of James Bailey, a Sheriff's officer. On Monday 10th September the deceased had left home to attend the

BELL

where the election Committee for Mr. Angell was sitting. On his way he was met by a number of persons from the opposite party who carried him by force to the

IMPERIAL ARMS

and then to Wroxham

CASTLE

. The next morning they removed to Horning

SWAN

and then on to Smallborough. That night they went on to Ridlington

PLOUGH

. They returned to Norwich at about one o'clock on Friday morning,14th Sept. Although it was said nothing was wanted in eating and drinking, and nothing done to injure a healthy man, poor Bailey was very ill and suffered from being so moved about. After his return Bailey had said he was as well as usual and the fresh air had done him good. He worked at the Festival from Monday to Friday, 21st Sept. On the Saturday morning he had a fit of coughing, burst a blood vessel and died.
The Jury considered that however cruel and unjustifiable was his abduction, the onus of being instrumental in his death was removed since he had subsequently worked at the Festival.

"Died from the visitation of God."

House no. 58 on 1845 Magistrates list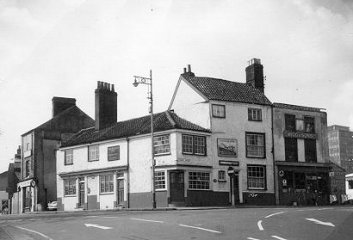 22.04.1967
Image by George Plunkett - shown by permission - Copyright © G.A.F.Plunkett 2002
Known as the
PLOUGH & HORSES
, 1760 to 1836.
Address as Golden Ball Lane in 1845,
12 Cattle Market Street in 1890 & 1896.

18 year old John Mendham, a lodger at the Plough and Horses, hanged himself on the premises, on the morning of Saturday 14th February 1835. The inquest was held at the house the following Saturday and returned the verdict of Temporary Derangement.

Closure due to war damage was confirmed to the licensing authorities by `Customs note ' dated 09.02.1943.
The house did not operate during the remainder of the war as a public house, but was used by the American Army as headquarters for the Military Police.

Re-licensed February 1946 and Morgans Brewery advised the Magistrates in a letter dated 05.09.1946 that `We wish to reopen the premises 01.10.1946'.
Morgans sales for 1960 were :-
124 barrels of beer.
83 spirits.