Formerly the
THREE CROWNS.


Address also as St. Miles Church Alley
and as 57A Colegate.
As `Near the Church' in 1845.
The Norfolk Chronicle of 8th February 1908 reported that the police had objections to licence renewal. Inspector Windsor said that there were 15 other licensed houses within the immediate area and that the house had been badly conducted. There were frequent disturbances.
On behalf of Morgans brewery it was said that sales were 243 barrels plus 161 dozen bottles of beer in the previous year. The tenant, Frederick Middleton, had removed the undesirable characters and that he had not been at home on the occasion that a man had been found drunk on the premises.
Licence provisionally refused 05.02.1908 and referred to Compensation.
Closed under Compensation 04.01.1909
The house operated as the Queen Anne Cafe to 1960's.
Later to become private accommodation.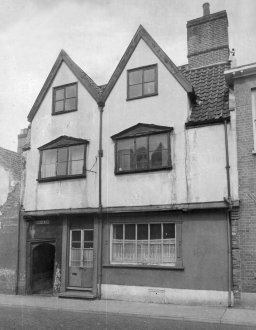 c1950