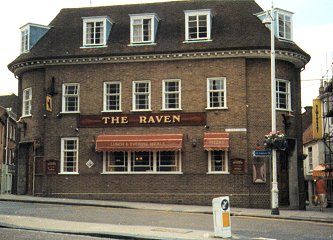 1985
William Daynes made an application, on Monday 24th August 1891, for a music and singing licence for the St. Giles Musical Union which had held its meeting for the previous two years, in an upstairs room, 17 ft by 13 ft, and to cover the occasional playing of a piano and a song in the downstairs smoking-room. Only men were allowed in either room. Mr. Daynes said he had actually been at the house for two months and was a tenant, but had only taken on the house for three months since he was considering if it would answer his purpose, he did not have an agreement.
Application withdrawn.
Early opening licence (5:00am to 8:00am) refused at the Licensing Sessions as reported in the Norfolk Chronicle of 10.02.1906.
Severely damaged by enemy action 27/29th April 1942 .
(Revealing a gable thought to date from c1450)

Youngs & Crawshay advised the Magistrates by letter dated 08.02.1944 that they intended to re-commence trading from 11.02.1944.
Operated in the remnants of the building until c1955 when rebuilt.
Held a Market Licence to 1970's allowing opening on a Saturday afternoon to 5:00pm when closed for 30 minutes before reopening as normal for the evening shift.
Refurbished in 1985 and reopened as REFRESHERS.



House no. 250 on 1845 Magistrates list