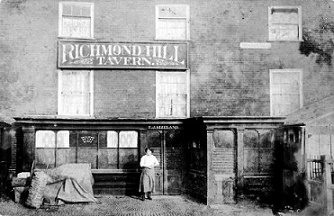 c1915
On the night of Sunday 18th July 1813, the bar was broken into and a ham, a bottle of rum and a basket containing about £5 in half-pence, was stolen. The empty basket was found in the garden the next morning.
It was advertised 29th May 1819 that the Gardens were now open and admittance was Free.
Mr. Downing had ornamented the gardens and the Painting of Don Cossack at the entrance, in the costume of his country, being an object of general attraction. Bacchanalians and other subjects `fully appropriate to the mirthful scenes the Gardens are so well situated to draw forth, when the minds of the citizens wish to unbend from their daily toil.'

26th July 1823 - Mr. J. Lovick advised the Ladies and Gentlemen of Norwich and Norfolk that during Assize Week, on Wednesday 30th July, there would be a Grand Concert. Admission 6d.

On Saturday Friday 25th July 1841, Mr. William Youngs appeared in the Insolvent Debtors' Court and was discharged.

Richmond Hill Gardens (Pleasure Gardens) in 1842

Advertised To Let 26th September 1844 - Apply Messrs. Tompson's Brewery, King Street, Norwich.
To let for a period of 14 years from 29th September 1848 according to notice of 8th July 1848. Lot 1. in the sale of `The Wilderness' or `Boteler's Hills' Estate.
To Let for a term of 14 years and for Auction Tuesday 18th July 1848.
Possession from Michaelmas.


To Let by Auction on Thursday 28th June 1849.
Lot No. 1 being the property described as formerly the Richmond Hill Gardens to be let for a term of 49 years from Michaelmas. The hirer to lay out £200 on the Premises and to quit the building at the end of the term.
Lots 2 to 8 were pieces of Garden Ground, of which 2,3,4 and 5 would be let for a term of 75 years with the condition that two dwellings be built on each, within two years from the day of hire. Lots 6, 7, and 8 would be let for a term of 21 years without mention of a requirement for dwellings, but advertised as Sites for Residences.
William Copeman Richards applied, on Monday 24th August 1891, for a music and singing licence for the attached club-room.


As 1, Bracondale in 1904

Licence provisionally refused 26.11.1930 and referred to Compensation.
Closed under Compensation 31.12.1930.


House no. 51 on 1845 Magistrates list.