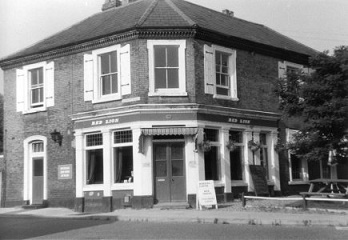 1984
Original building dated from the 16thC.
The house was engaged for Freeholders, the Friends of Sir Edward Astley, Bart. and Thomas William Coke, Esq. on Wednesday 14th April 1784, being the Day of Election. (One of 53 such houses in Norwich)
Offered To Let, December 1861, by order of the Trustees of the Great Hospital. With Cottages, Gardens, and Staithe, having a frontage of about 137 feet next the street, and 196 feet next the river, containing 123 Rods of land, more or less, subject to existing rights of way.
In 1874 a provisional order was made granting the licence to Arthur Woodrow, at new premises (the current site).It appears that as soon as the new house opened, John C. Lewis carried on until April 1876.
The
GREEN DRAGON
had stood in approximately the same position as the new
RED LION
.
The Norfolk Chronicle of 10.02.1906 records that licensee Albert Coe (Cole ?) applied for lifting of a restriction on females entering a room where music, singing and dancing took place. The house was frequented by soldiers. Before the restriction soldiers had accompanied young women, but not by girls of 16 years old or younger, to the concert room. The police reported that they had suffered much trouble before the restriction but not after.
The restriction was not lifted.
Damaged by enemy action April 1942.
The `Mutton Chop Banjo Band ' provided entertainment here in the 1970's
Closure expected 31st January 2020 following the owners, the Great Hospital Charity, seeking to obtain tenants under a new lease.
House no. 320 on 1845 Magistrates list.