Licensees :
SAMUEL MITCHELL
1760 - 1762
CHARLES WIGG
bricklayer
1763 - 1764
SAMUEL MITCHELL
1806 - 1811
JAMES MINNS
Died August 1831 - age 58
1822 - 1831
ANN MINNS
1836
JESSE WEYER
1839 - 1842
THOMAS WEYER
age 39 in 1851
hand loom weaver
1845 - 1854
G. KEY
1865
JAMES RIX
by 1867
WILLIAM NEEVE
03.10.1872
ARTHUR FARRINGTON
08.08.1899
JEANETTE RUTH FARRINGTON
13.06.1905
CHARLES LACK
1908
SIDNEY WILLIAM ROBOTHAM
22.08.1911
SUSANNAH ROBOTHAM
11.02.1915
SIDNEY WILLIAM ROBOTHAM
17.06.1919
Convicted 04.11.1933 of selling out of hours.
Fine £1 or 13 days
SUSANNAH ROBOTHAM
21.07.1936
JOHN HENRY WILLIAM WOODHOUSE
01.10.1946
LESLIE WILLIAM LINFORD-HAZELL
07.06.1949
DENNIS DONALD LARGE
18.11.1952
Convicted 01.05.1953 of selling out of hours.
Fine £5
Convicted 01.05.1953 of allowing consumption out of hours.
Fine 10/-
CHARLES SAMUEL RICHARDSON
09.06.1953
ARTHUR WILLIAM CHASE
12.03.1957
to c1969
..... HORNAGOLD
at time of closure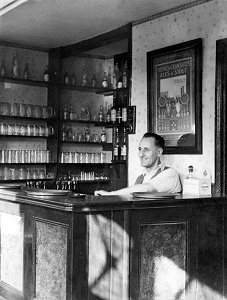 Leslie William Linford-Hazell at the bar c1950.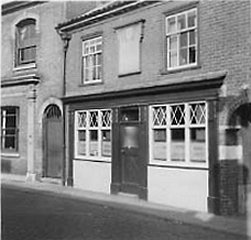 c1950

Held an early morning licence for the benefit of the employees of Barnard & Bishops, as renewed at the August 1897 Sessions.

Licence renewal opposed August 1891 on the grounds that it was not required. The Chairman could see no reason why this particular house had been selected from those in the immediate area.
Licence renewed.

Closed 1970 and later demolished.



<<<<<<<<<<<<<<< >>>>>>>>>>>>>>

Leslie Robert Linford-Hazell advises 09.11.2004 :-

My father kept the Red Lion, relinquishing it only when ill health forced him to. A Far East POW in WW2, he died in 1954.
The trade was brisk at weekends, mostly by a faithful crowd who came some many miles to enjoy the sing-song etc to piano accompaniment. Dart matches livened up week nights which were quiet. Close by was Bullards Brewery and at lunch times one man in particular regularly came in to eat his lunch and enjoy a Youngs & Crawshays beer.

Along with a group of friends we held what we called the "Norwich Jazz Club" playing records of our choosing - Stan Kenton figured large at the time.

For the record the bar room was the full width of the front of building with the bar itself as seen on the left with the Cellar behind. There were no beer engines, all beers being drawn from the wood. Fresh supplies were delivered through the front door. The smoke room was behind the bar room and held the piano. A small kitchen was at the rear and sleeping accommodation and bathroom were upstairs. Customers toilets were out the back, a passage on the right of the building led to a small yard and backed up to the rather derelict yard of Barnard and Bishop.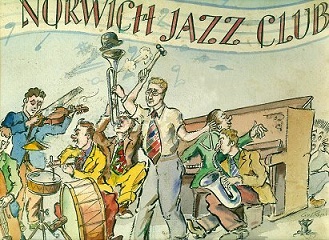 With thanks to Leslie Robert Linford-Hazell

"I have attached a photo of the front of the Red Lion and one of Dad behind the Bar, also a cartoon drawn by a Mr Royal who lived next door. The one with the hammer is supposed to be me, the rest are various friends.
I don't think any of us could play anything other than the gramophone ! Loud ties were also the rage".