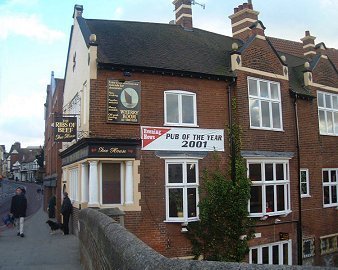 Image by Roger Greengrass - Feb 2002.
The
RIBS OF BEEF
from at least 1743.
In 1898 the road frontage was demolished and rebuilt further back to allow tramways.
In 1928 the house was renamed the
FYE BRIDGE TAVERN
and kept the name to closure 1959 when licence was surrendered with that of the
RAILWAY STORES
.
(For the
MORNING STAR)
.
Reopened as the
RIBS OF BEEF
9th August 1985.
The name was briefly spotted with the subtitle `DEBONED' December 1997 following a government ban on all beef being sold on the bone.
Voted Evening News Pub of the Year 2000.

Renovations in 2017 revealed a medieval wall dating back to pre 14th Century