Licensees :
SIR KENNETH HAGAR KEMP
09.10.1897
HENRY LEWIS CLARK
30.07.1901
JAMES BERRY
16.01.1906
GEORGE DURRANT HARMAN
05.04.1911
HERBERT PHILIP GOWEN
19.06.1923
FRANK GODWIN FREE PLATTEN
20.11.1928
H. G. ROUNCE manager
by 1962
-
-
Amelia Nickalls, aged 20, a servant, lost her life Thursday 5th October 1899, whilst using the luggage lift. She was crushed against the arch when the lift started and fell 40 feet to the bottom of the well.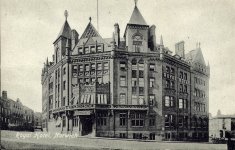 c1903
Sits within the parishes of both St. George Tombland
and St. Michael At Plea.
Location also given as Agricultural Hall Plain.
The public bar was renamed HENRY'S c1989

Later to be the CHICAGO ROCK CAFE.