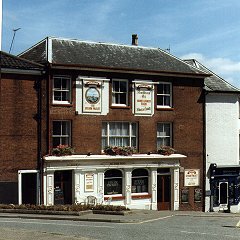 1998


Believed to be the Steam Packet advertised to be Sold by Auction Monday, 15th December 1834, described as being next King Street and near Castle Meadow. With a Dwelling-house under the same roof, and three Tenements and adjoining Yard; and two other Tenements fronting Castle Meadow. All forming a very desirable and compact Estate in the parish of St. Peter per Mountergate.
Public house under Lease to Messrs. Hardiman and Watts, expiring at Christmas 1834.
SOVEREIGN STEAM PACKET 1836?

Offered to let March 1858. Occupant given as Mr. Grimes and location as Rose Corner.


OLD STEAM PACKET 1865 onwards.

As he applied for a licence, Edward Holmes denied, Tuesday 24th August 1869, that he had previously been fined £20 for selling spirits without a licence. When pressed he admitted that "when at the COCK, some 9 or 10 years ago" he had indeed been fined "For selling a little liquor to a person". He claimed he had misunderstood the question. In spite of having been in the trade for 30 years and, as far as the police were concerned, he was a respectable person, the magistrates refused to grant the licence application.

Edmund Holmes applied for a full licence Tuesday 23rd August 1870. It was heard that he had been refused the previous year since he had denied that he had once been fined for supplying liquors without a licence. This time he received a good testimonial from the Chief-Constable and the application was granted.

Address as Castle Meadow in 1879
and as Castle Hill in August 1891 when a Music, Singing & Dancing licence applied for in the name of the Old Steam Packet.
Elizabeth Andrews applied for a singing and music licence 22nd August 1891. The magistrates argued that it was not necessary for a licence to be held to cover the odd occasion when a customer may sing or bring in a musical instrument to entertain his friends. It only became necessary if it were a regular practice.
Mrs Andrews said that the room in which music and singing would take place was only capable of holding between twenty and thirty people and she wanted it open from 6 pm to 1pm. The licence would keep her business together.
Licence refused.

On Thursday 9th February 1905 the Chief Constable objected to licence renewal owing to the back doors opening into enclosed yards common to other tenements.
MARKET TAVERN from 08.1908
STEAM PACKET from 08.1993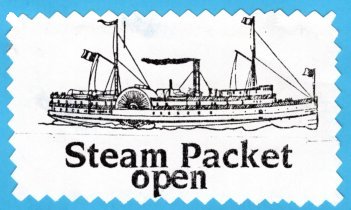 Purchased by Adnams Brewery 1996