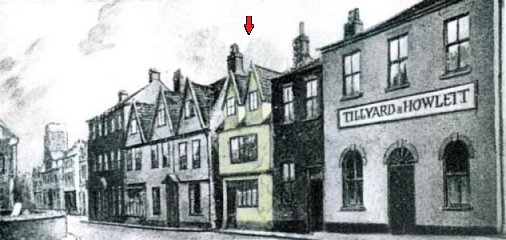 1846 illustration
As at Bridge Street 1810 & 1822.
Appears to have relocated 1822.
At Colegate 1822 & 1894
As near the Church 1845
The
SHAKESPEARE WINE & SPIRIT VAULTS
1836
SHAKESPEARE WINE VAULTS
1842
Part of the estate of brewer Thomas Foyson, who died prior to March 1832. House to be sold by auction Tuesday 24th September 1833 Lot No 1 of 8.
Described at that Well-Established Public-House, fronting the street and in occupation of T R Booth when offered for sale by auction Monday 31st August 1857. The shop adjoining formed part of the estate, lately occupied apart from the public-house. Lot 2 was a Dwelling-house adjoining, lately used as a printing office extending down Water Lane. Unoccupied at time of auction, except for front shop in occupation of Mr. Lofty, hairdresser.