Licensees :
WARD & SEAMAN
Wine, Spirit & Porter Shop
1. St John's Maddermarket
1842
ROBERT SEAMAN
1845
SAMUEL & FREDERICK GRIMMER
by 1867
SAMUEL GRIMMER
1874
ERNEST BUTCHER GRIMMER
18.02.1890
LACON & Co
29.12.1896
WILLIAM JAMES ROSE BURRAGE
28.07.1903
ARTHUR WELLINGTON EVERETT
11.06.1907
WILLIAM GEORGE NEEVE
27.11.1907
LEONARD GURR
09.02.1932
MICHAEL FALCON junior
24.05.1932
HARRY BURGESS
26.08.1941
JOSEPH CHARLES EDMUND ALDOUS
01.01.1946
WILLIAM SMITH
(& Dora Smith)
31.12.1946
ALFRED EDWARD STEWARD
15.11.1949
JOHN GEOFFREY CLARKE
12.05.1959
-
LIZ & RAY CASTLE
to 1979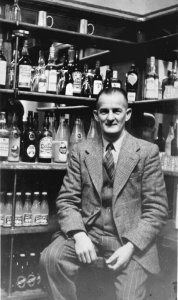 William Smith c1948
Behind the bar of the Shrub House.

Formerly the premises of
WARD & SEAMAN
importers of Foreign Wines & Spirits
Agents for Truman, Hanbury & Co's London Stout Porter

Found as Ye OLD SHRUB HOUSE in 1905.

6 day licence from 1872 to 12.03.1957, when licence removed from the CITY ARMS (and licence of the ORCHARD surrendered).
In 1896 the licensees are given as :-
Ernest de Montesquiou Lacon,
Henry Sidney Hammet Lacon,
Charles James Lucas &
Alfred George Lucas.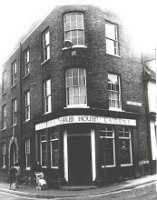 In 1974 the adjoining hatters shop of the world famed Rumsey Wells was incorporated into the licensed premises.
The house closed September 1979 and the original corner bar became a newsagents.
The remaining property reopened c1984 and was known as BLUEBERRIES .
Became the RUMSEY WELLS by 1985 and then
the St. ANDREWS TAVERN in 1989.
The RUMSEY WELLS again 2008.