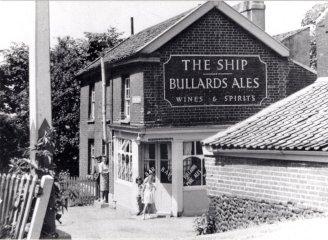 A beerhouse in 1849
At the Guildhall on Tuesday 26th June 1849, John Watts appeared to answer charges, preferred by the night watchmen, that he had kept his house open beyond midnight on the previous Saturday night. This was his first offence.
A severe warning was given and he was ordered to pay costs of 3s 6d. If the offence was repeated, then maximum fines would be awarded.
On Wednesday 27th July 1859, George Boyce was charged with opening his house, before 12:30 pm, on the previous Sunday. Police-constable Hunt said that he had found a man in the garden and a measure of porter before him. Boyce claimed that he had been out walking and upon return, drawn the porter for his own use. To his astonishment the magistrates informed him that he was not entitled to draw liquor for his own use during prohibited hours. In light of it being a first offence the minimum fine of 1s and costs was imposed.
Location as Mousehold Heath in 1864, 1869 & 1879.
Closed 31st January 1974 under Watney Mann (East Anglia) Ltd.
Demolished.