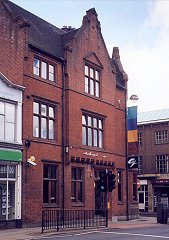 2001
Former Estate Agents offices converted to the SLUG & LETTUCE 1999/2000.

Opened end April 2000.

(Ironically virtually next door to the former COMPASSES which had been closed in 1984 and converted into an Estate Agents office.)

The SLUG & LETTUCE relocated to what had been YATES WINE LODGE during 2008.

BELUGA Eaterie & Bar by September 2009.
Mr. POSTLES APOTHECARY
from mid 2015 (Restaurant)