Licensees :
ROBERT LAWS
1856 - 1859
Accused Tuesday 21st September 1858 of having house open for the sale of beer on the previous Sunday morning at twenty five minutes to twelve. Paid costs of 7s 6d
HENRY CLIFFORD
1863 - 1864
ROBERT BACON
by 1865
Accused 06.06.1866 of being open out of hours. See opposite.
JOHN COOPER
13.05.1873
MARIA BROOK
10.06.1873
HENRY WILLIAM OLLEY
30.10.1876
SARAH ANN OLLEY
29.12.1885
WALTER RUDLING
03.05.1892
GEORGE AGER (Agar ?)
10.10.1894
FRED BUNN
25.06.1895
DAVID CLARKE
10.10.1896
WALTER HARRY FERDINAND LORD
09.02.1905
GEORGE WEBSTER
27.11.1906
Convicted 22.12.1911 of permitting gaming.
Fine £5 plus 7/- costs or 21 days detention.
DONALD WILLIAM WEBSTER
05.10.1943
WILLIAM OAKLEY
09.11.1943
WILLIAM JACK OAKLEY
30.09.1958
HENRY GEORGE NICHOLS
15.10.1963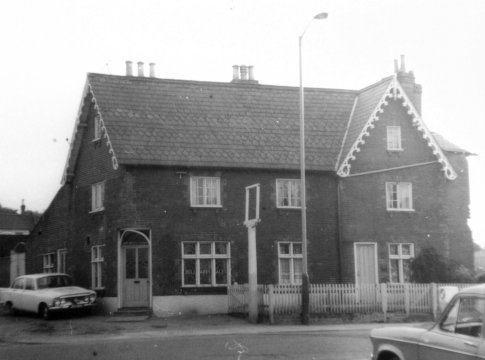 Address 1866 as St. Benedicts Road.

Stood on the west corner of Golding Street.


For sale by auction Tuesday 15th September 1863
Comprising Front Shop, two Parlours, Kitchen, Wash House, Cellar and four Bedrooms. In occupation of Henry Clifford at a rent of £19 19s.

Robert Bacon was charged by Sergeant Hayward of selling beer at 8:15am on Sunday 3rd June 1866. Bacon claimed that the man found drinking beer from a half-pint pot was a traveller going from Costessey to the station to take a train to Yarmouth. Unable to substantiate that defence he was fined 1s and 11s costs.

At the Norwich Licensing Session held Friday 24th August 1900 there was objection to licence renewal owing to the rear of the premises sharing access with adjoining cottages and the shared access often being locked, preventing police communication with the back doors. Decision to be considered at another date, at the adjourned session.

Damaged by enemy action 27/29.04.1942.
260 barrels of beer sold in the final year of trading
plus 118 (barrels) of bottled beer.

Closed 26.04.1971

Demolished