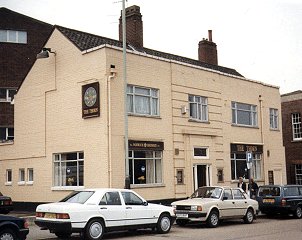 June 1988
Address given as St Bartholomew Street (1851 / 1852 ?).
Described as Liquor Shop and Tavern, free of Brewer and Spirit Merchant when offered for sale Friday 1st August 1851. Occupant then Mr. W. C. Holland. `Commanding situation for trade, fronting the best part of Ber Street and comprising an excellent Spirit Shop and Porter Room, Sitting Room, Bed Rooms, and Kitchen, the whole replete with every convenience. Also a spacious Club Room, 25 feet in length and Excellent Cellarage.
An application was made Saturday 22nd August 1891, by William Barrett, for a music and singing licence in order that his sons could play the dulcimer and fiddle for the amusement of his customers. Refused.
Labourer Benjamin Newman was fined 10/- with 4/6d costs or 7 days detention with hard labour for bring drunk and disorderly and for maliciously breaking a window at the Thorn Tavern, upon being ejected. - according to the Norfolk Chronicle of 11th July 1896.
The case against George Carey was heard Saturday 11th October 1902. Accused of keeping his house open during prohibited hours on 5th October, he pleaded guilty.
P.C. Sheldrake gave evidence that no fewer than 18 persons entered the house over a period of two hours
The Chairman said the case was a very bad one and hoped the brewers would quickly get rid of Carey. For Bullard and Sons it was said that they had previously found no fault, but had served notice to quit that morning.
Damaged by enemy action 27.05.1942.