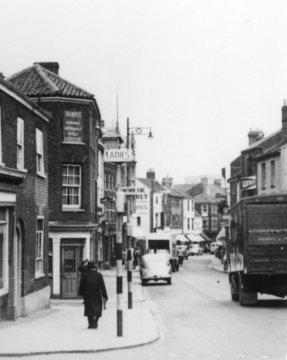 c1958
Stood on the corner of St. Stephens Street and Coburg street.
The house was engaged for Freeholders, the Friends of Sir Edward Astley, Bart. and Thomas William Coke, Esq. on Wednesday 14th April 1784, being the Day of Election. (One of 53 such houses in Norwich)
~
On Wednesday 23rd November 1882, Richard George Amiss took action against the London and South Western Railway Company for injuries sustained whilst travelling on their line.
As a member of the Norwich Volunteer Corps, he had taken part, with his battalion, in a review at Windsor on 9th July 1881. Returning on that the day, the train had been in collision with stationary trucks. As a result of being rendered insensible by the impact, Mr. Amiss was confined to bed for a month and unable to leave his house for about six months, he had suffered pains in the head and back, as well as defective eyesight. The expense of hiring staff, whilst he was incapacitated, became too much, so he had given up his business. He had sold part of his effects, and by valuation, had lost £70. He had suffered the considerable expenses of medical attention, nourishment and necessities, and was not likely to be able to work for some considerable time.
The Railway Company did not contest the medical evidence.
The Jury awarded £500 compensation.
It was announced 21st February 1883 that the Commissioners of the Chelsea Hospital had granted Richard George Amiss, late Private No. 6 Company, for hurts received 9th July 1881, a
Pension of 15 pence per day for thirty months (conditional).
Mr. Richard G. Amiss is at the
QUEENS HEAD
, Downham Market by August 1884.
~
The Norfolk Chronicle of 10th February 1906 reported that the Chief Constable objected to licence renewal on the grounds that the premises had back doors that opened into closed yards, common to other premises. It was agreed that should alterations be started or complete by the time of the adjourned Brewster sessions, then the objection would be withdrawn.
Damaged by enemy action 27/29.04.1942.
House demolished in 1960's redevelopment scheme.
Rebuilt by 1964.

Renamed SWIFTS 1983.
Closed March 1989.







House No. 99 on 1845 Magistrates list.





See page 38 of `Norwich in Old Postcards Vol 1' published 1988