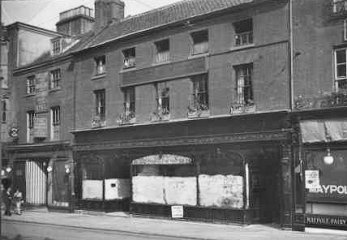 Image by George Plunkett - shown by permission - Copyright © G.A.F.Plunkett 2002
Listed as the
VINE
1840, 1845 & 1877.
Edward Back & Son, Wine & Spirit Merchants advertised in April 1842 that they were the Sole Agents in Norwich for the sale of Hodgson's Celebrated Pale East India Ale.
Agents for Allsopp's Pale and Burton Ales 1857 also Bury Dinner Ale and London and Dublin Stout. Supplied to Families in fine condition and provided in 4½ , 9, 18 gallon Casks and bottled on the Haymarket premises.
The Norfolk Chronicle of 14.02.1903 reported that owners of adjoining property, Mr W. M. Nichols and W. J. Barker, objected to licence renewal on the grounds that developments of the Vine were injurious to the neighbouring properties. The licence was granted on the provision that the premises were returned to their original condition.
On Tuesday 10th March 1903 Mr. Philip E. Back confirmed that the entrances (from White Lion Street?) that had caused objection had been blocked up and the premises had returned to their original condition. He further confirmed that the entrance to the Wine Room had existed before January 1902 and was not part of the recent alterations. Licence confirmed.
Full 6 day licence from 1872 to 13.02.1962 when 6 day condition revoked.
Known as BACKS until to closure 1971.

(Last day of trading Saturday 3rd April 1971)



See also CURATS HOUSE & MANCROFT VAULTS.