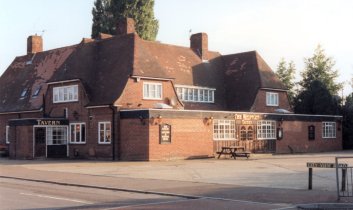 Built by Youngs, Crawshay & Youngs 1938.
Licence of Mattishall
CROSS KEYS
transferred to this house 05.03.1938 and the licence of the
ROYAL OAK
, Aylsham was surrendered without Compensation.
`Extensively modernised - doubling the public area of the house - reopened April 1965 ' according to the RED BARREL, the Watney house magazine (Vol 5 No 4).

Licensee Cooke was a war time member of 617 Squadron, RAF - The Dam Busters.
Application reported 03.05.1996 for demolition and building of a retail unit. Plans said to be `dropped' September 1996.

Closed July 1998 and purchased by J. D. Weatherspoon.
Reopened 20th January 1999 as a J. D. Weatherspoon house following a reported £500,000 refit.
Closed 29th February 2011 for refurbishment and destined to reopen 18th March 2011.
Plans published October 2015 to "redevelop the site to meet the area's growing business needs". Plans included building a hotel at the rear of the premises, on the existing car park., leaving nine spaces for the public house.