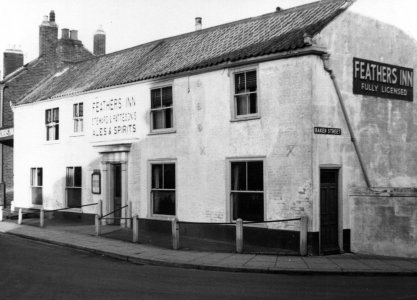 c1950
Conveyed to Bells Brewery or their ancestors 9th October 1792.
Frontage rebuilt 1870
Also given as the THREE FEATHERS.
Damaged by enemy action during WWII.
Linda O'Carroll advises 09.01.2005 :-
Christopher Spashett (1802-74) was an agent for the Short Blue
fleet from about 1854 when it moved from Barking to Gorleston.
He was a lifelong friend of Sam Hewett of Barking (who owned the Short Blue). Spashett, a smackowner, had gone bust and the job was given to help him out.
I visited Gorleston in 1992 the house had recently been refurbished, historical fittings having been totally removed.
However the landlord gave the following information:
On the left front corner there was originally a door, and also one round
the corner on the right. The right hand door led to a small pot and jug room. The left hand door led to the main bar, which within living memory had the original Victorian high closed-in bar, with tiny doorway for serving. The left and right-hand bar-rooms were very small. By 1992 it was all open-plan with no original fittings. It was thought in 1992 that the general shape of the building and windows were original. The building was painted pink at that time.
You will know, of course, from the pre-war generation, that it was
shameful for elderly and poor alcoholics to visit the pot and jug room, which was why outdoor access, situated discreetly at the side of the building, was usually provided. Old women, wearing men's caps and carrying a jug to be filled, used to sneak round there after dark for a refill.


See page 80 of Gt. Yarmouth in Old Postcards -
first published 1992