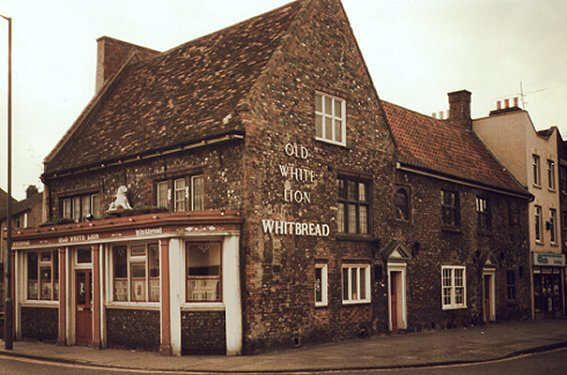 Formerly the house of James Symonds, merchant.
A lead casting, dated 1647, removed from the Old White Lion, was presented on loan to the Tollhouse Museum, May 1893.
An inn from about 1740.
Said to be the oldest surviving domestic building in Gt. Yarmouth.
Pine panelling behind the bar dates from 16thC - the earliest local example.
Given as the White Lion Brewhouse in November 1783, when occupant William Gooch was declared bankrupt and offered For Sale by Auction Thursday 27th November 1783.
"Late in the occupation of Mr. Gooch, held on a 21year lease from Lady Day, 1783, a a ground rent of £10 a year.
Also Mr. Gooch's Interest in a Malthouse, Storehouses and in Twenty good accustomed Drawing Houses, the greater Part of them under Lease for twenty-one Years.
In excellent repair and very commodious having been established upwards of forty Years and in full Trade and high Repute and most conveniently situated for the Ship Trade in the Roads."
Lot III in Sale by Auction Monday 7th November 1785 by order of the Assignees of John Crombie, a Bankrupt.
In occupation of James Norton under a lease of £13 p.a. due to expire 25th March 1790.
(Mr Norton also holding leases on the
ELEPHANT & CASTLE, FOURTEEN STARS
,
SHIP
and the
SHOEMAKER'S ARMS
Given as the
OLD WHITE LION
in 1822.
The 1848 will of Mary Forder bequeathed the property to her daughter Martha.
Closed for the duration of the war according to a letter dated 06.10.1941.
Reopened 11.12.1945.
Location given as on the corner of Nottingham Way in 1959.
One of 250 `Selected favourite Whitbread pubs - 1974.'
Also found as
YE OLD WHITE LION
.
Reopened late 1996 following a lengthy closure.