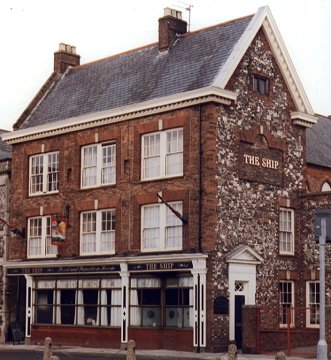 Formerly the house of John Ireland, mayor of Yarmouth in 1716.
13th June 1767 - To Let from Michaelmas 1767, the Ancient and Well-accustomed House, the Ship Tavern. Enquire of John Cotman Esq.
Advertised for To Let, 14th May 1768.
A well accustomed house known by the name of the Ship Tavern. Situated in the Middle Street, near the New Broad Row. A very proper house for any person to take for the Accommodation of Boarders for the Bath.
An adjoining shop also included
Immediate possession or at Midsummer.
Enquire of Mr. John Cotman Esq.
Lot V in Sale by Auction Monday 7th November 1785 by order of the Assignees of John Crombie, a Bankrupt.
In occupation of James Norton under a lease of £8 p.a. due to expire 25th March 1790.
(Mr Norton also holding leases on the
ELEPHANT & CASTLE,
FOURTEEN STARS
,
SHOEMAKER'S ARMS
and the
WHITE LION
.
For sale by private contract October 1802, consisting of three parlours, three dining-rooms on the second floor, eight bed-chambers and two large garrets, in occupation of Mr. William Snow at the yearly rent of £80. Recently much improved at considerable expense and in complete repair and full trade. Possession to be had on 1st December 1802.
Recorded as the
WHITBY KATT
, or
SHIP
in 1804 conveyance.
It was recorded 16th September 1809 that William Ungleman had taken on the Ship from Mrs Bond.
To Let March 1814 including:-
Two Parlours, one large Dining Room, two Sitting rooms, one Porter room, eight excellent Bed rooms, large Attics, Kitchen, Wash-house, Bar, Larder and good Cellars.
Immediate possession or at Lady-day next. (25th March).
Particulars could be obtained from Mr. William Seaman, who was possibly the outgoing licensee.
Offered 9th October 1834 as To Let with Immediate Possession.
With the whole or part of the Stock and Furniture to be taken at Valuation.
Offered for sale by auction Tuesday 14th May 1867.
Described as a very desirable old-established Freehold Public-house, let to Mr. Edward Nutman. For may years a lucrative beer and spirit trade having been carried out on the premises.
Located on the corner of Row 84.
Address as 8 Middlegate in 1822 and 1865.
As 6 Gaol Street in 1869.
6 Middlegate Street in 1875, 1879 and 1888.
4 Middlegate in 1937.
Location known as Greyfriars Way by 1970's
Closed 2010 to be converted to `health facility'

On 18th May 1861, William Parmenter was due to appear before the Court of Relief for Insolvent Debtors at the Shirehall, Norwich.~
He was then described as "Late of Gaol street, Gt. Yarmouth, Publican and Licensed Dealer in Tobacco, Dealer in Fish and Waterman. Before that of North Quay, Gt. Yarmouth Licensed to sell Beer and Tobacco by retail, Dealer in Fish and Waterman. Before that of 132 Row, South Quay, Gt. Yarmouth, Dealer in Fish and Waterman and also Bar-man and residing at the Railway Terminus Tavern, North Quay. Before that of Kings Street, Norwich, Publican and Waterman. Formerly of the Market Place, Gt. Yarmouth, Publican, Waterman and Dealer in Fish."