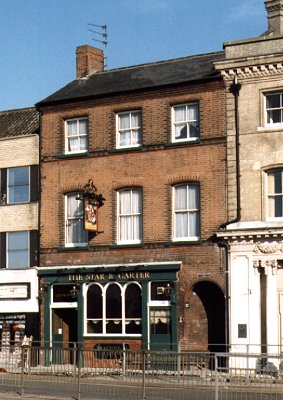 Original building stood on the South West corner of Row 57
(Howard Street to Hall Quay)
The Star & Garter relocated to the above building in the early 1800's. It stands on the North West corner and was previously the house of Major Orde.
Mr. Sanders advertised 19th February 1803 his offer to deliver (from this house) to all places in Yorkshire and Lancashire, giving a list of places from Armine to Yeighton.
He would deliver to Selby (The Act of God, the King's Enemies, Fire, and all and every other Dangers and Accidents of the Seas, Rivers and Navigation, of whatever nature or kind forever EXCEPTED), where Mr John Fisher would forward all goods.
Address as Short Quay in 1836 & 1854.
17 Hall Quay 1861
Music licence (wireless only) granted Tuesday 15th December 1936.
Closed November 2013 and destined to be extension of adjoining commercial premises.