Licensees :
-
-
ROBERT HAGON
1750
Arrested May 1750 - see opposite.
-
THOMAS MOORE
(Thomas More 1794)
October 1789 - 1808 +
-
Mr. PURLAND
(Wife Ann died September 1825)
1825
-
THOMAS BALDWIN
1836 - 1839
SAMUEL TURNER
& plumber 1845
age 36 & plumber & glazier 1851
& ferry & plumber & painter 1858
1841 - 1861
Final order of bankruptcy granted Tuesday 30th July 1861.
Mr. Turner then described as former publican and beer-seller.
( Debts of £191 5s 6d and Assets of £48 16s 4d as recorded 18th June 1861)
JOHN FRENCH
(John Trench 1863)
1863 - 1877
EDWARD YOUNGS
& ferry owner
1879 - 1883
HENRY WILLIAM FLAXMAN
1888 - 1893
WILSON & CARVER
1897
HENRY HEWITT CARVER
Here for 12 years.
At Mulbarton WORLDS END by 1908.
1900 - 06.1907 at least
FRANK SCARLE BINGHAM
by 07.1908
HENRY KNIGHT
1912
WILLIAM BLANCH
1915 - 1922
ALBERT BLANCH
1925
GEORGE H TAYLOR
1929
RUSSELL EDMUND DIGBY
(House run by Mrs Ivy Digby during WWII whilst Russell Digby served with Chatham Dock Yard Police)
1933 - 1957
(Raymond ?) CHANCE
from 1957
-
ERNIE & WYNN CURSON
1968 - 1973
PETER TALLOWIN
09.1973
-
LAURA COLCHESTER &
PAUL WILSON
managers
1990
-
MARTIN & SUSAN WORMELL
mid 2006 -
December 2009
Matthew Porland , once much respected landlord of Bramerton Woods End, died in Norwich on 3rd March 1851.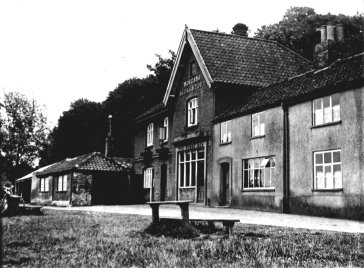 c1925
Recorded pre 1700.

Robert Hagon was arrested Monday 14th May 1750 and committed to the Castle for harbouring outlawed smugglers at his house. A Reward of £1500 was offered to persons who could give information leading to the apprehension of the three smugglers.

Lot 9 in a sale of Estates Saturday 26th October 1793.
With Stables and other Out-houses, three Acres of land in Bramerton and Kirby Bedon and a Marsh in Surlingham, altogether about 10 Acres, the whole in occupation of Thomas Moore on lease for fourteen years, commencing Michaelmas 1789, at the yearly rent of £20.

For Sale by Private Treaty March 1795.

For Sale by Auction Saturday 31st December 1808, Lot No. 30 in the sale of properties of Mr. Thomas Allday Kerrison, a bankrupt.
With 15 acres and 2 roods of Land. Occupied by Mr. Moore.

Given as WOODS INN 1836

It was reported Saturday 9th July 1859 that men employed by Mr. Peter Scott of White Lion Street, Norwich, were enjoying an old custom of having a holiday, the previous Monday, on the river. They stopped at the Woods End Inn intending to spend the day there, but whilst playing with a ball, one of them slipped backwards into the water and was only extricated with great difficulty. Taken to the Inn, the landlord, Mr. Turner refused him a bed and did not allow him to dry his clothes by the fire. His mates were told to run him around the grounds till he got dry.
Mr. Turner had given the fellow a glass of brandy and said that he was busy serving dinner when the event happened at about twelve o'clock. The party had moored their boat about a mile away and had brought their own provisions, including beer and had earlier only purchased tea and hot water from him for a total of 1s 6d. He admitted that his fault was not to neglect his paying customers who had ordered dinner.
A communication from the trippers published on 23rd July claimed that the party had in fact purchased rum, gin and a gallon of beer, for which they had paid three shillings. However the letter finished with `even if the account of the landlord is true, humanity ought not to be doled out according to how much money spent'.

To Let at Lady Day 1896 (25th March)
River-side Hotel with Pleasure Grounds and Land.
Apply to Morgans Brewery Co., King Street, Norwich.
A favourite Inn and Tearoom in Victorian times.

Part of the frontage dates from 1885.
As can be seen above, other parts are older.

Advertised February 1896 - To be Let from Lady Day (25th March)
Apply Morgans Brewery.
Morgans sales 1960 given as 96 barrels of beer and 53 spirits.

Outbuildings (cart shed, stables and beer store) demolished c1967 to make way for car parking. Original ground floor beer cellar incorporated into bar area and new cellar formed in what was the kitchen. A new beer store built at rear. Lounge area increased by using what was the sitting room of the adjoining cottage.
`Look out for charming riverside resort on the left after passing Surlingham Ferry' - D A Yates 1970


Renamed the WATERS EDGE by 2016.