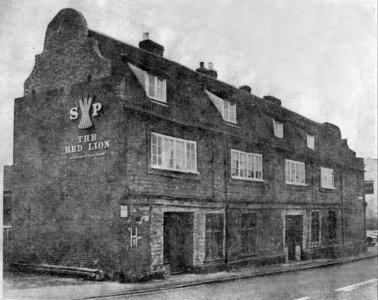 1968
Late 17thC Inn.
Upstairs windows are said to have been bricked up to avoid the window tax of 1695.
~
Mr. Chamberlayne offered a handsome reward, July 1808, for recovery of his Black Mare Mule, about 12 and a half hands high, 5 years old.
~
The Eastern Daily Press of 16th May 1877 reported :-
NORWICH GUILDHALL
Charles High, landlord of the Red Lion, Eaton, was summoned for keeping his house open during unlawful hours on Sunday last. Mr H B Miller (Town Clerk) supported the information; Mr Linlay defended. Police-constable Hunt, on going to the house of defendant at fifty minutes past nine o'clock on Sunday morning, saw four men standing against the back door, and the land-lady at the bar filling a pint mug with beer, which was afterwards taken to the men standing at the door, and who partook of it. Mr Linay having been heard in mitigation, defendant was fined 2s 6d and 17s 6d costs.
James Randall of Cringleford, Norfolk, was summoned for being on the premises of the Red Lion at the above unlawful time. As defendant showed that he was there for a lawful purpose, and it was not proved that he partook of beer, the case was dismissed.
~
The Lease, due to expire Lady Day, 1806 was offered for sale by auction Tuesday 6th January 1789.
~
An application was made Saturday 22nd August 1891, by Martha Hilling, for a music and singing licence. In spite of an objection from a local resident, the application was granted.
~
In the early 1900's facilities were provided for `commuters' to stable their horses, allowing them to continue their journey into Norwich by tram.
~
Following renovations in March 1968 ..........
` Bricked up in old fireplaces are recent copies of local papers and magazines with pictures of the present manager and his wife, just in case someone, a hundred years from now, wonders when the place was modernised.'
Thanks to Maureen Rust for the newspaper article.