Licensees :
-
SARAH LOVICK
(Living at Shropham in 1820. Died during the last week of August 1820 - age 75)
1789 - 1794
-
WILLIAM TILLOTT
Age 55 in 1841
Died 8th October 1841


(Mrs Tillott had died Thursday 13th November 1827)

182

7

- 1841
DANIEL WATSON
age 53 in 1851
& maltster & farmer
1845 - 1875
JOHN SELF
& farmer
occupier of 105 acres 1881
1877 - 1883
JOHN STEGGLES
& jobmaster, carting contractor, furniture remover, horse dealer & farmer


Age 52 in 1891

1888 - 1902
Mrs MARY DENNY
27.10.1902 - 1905
FREDERICK SOUTHGATE
Age 54 in 1911
1908 - 1912
ARTHUR GEORGE STAMMERS
Born at the DOLPHIN, Roudham.
Died October 1953 - age 71
1913 - 1949
-
DAVID & CHRISTINE SHIP
1975
BRIAN STAMMERS
08.11.1983
ANDREW STAMMERS
2002
-
Map ref : TF6220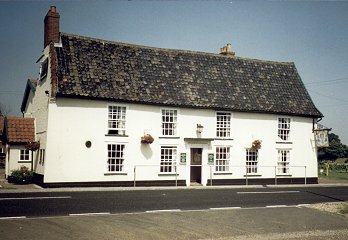 25.08.1998


Dates back to 1631.

Offered for sale 14th March 1747.

Shown on Bryant's 1826 map.

Also given as a brewery 1836

Advertised To Let January 1902 including a Small farm with about 105 Acres of Arable and Pasture Land.
Location given as Larlingford.
Damaged by enemy action 05.01.1944 according to S&P records.